Vår sonson Filip (Our grandson Filip)
Vår andre sonson, Filip Erik Oskar, föddes söndagen 2 december 2001 kl. 13:31 på Karolinska och han vägde 2985 g och var 47 cm lång. Hans föräldrar är förstås vår Anders och hans Frida.

4/12 hade vi nöjet att hämta gossen med föräldrar och köra dem hem till Spånga.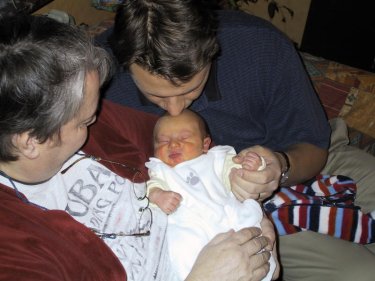 Our second grandson was born the 2nd of December 2001, his name is Filip Erik Oskar. His parents are our youngest son Anders and his Frida. We, Bengt and I, had the pleasure to pick them all up at the hospital and take them home to Spånga, and meet the little new boy for the first time.
Han kom på besök söndag 9/12, och hade redan börjat växa till sig.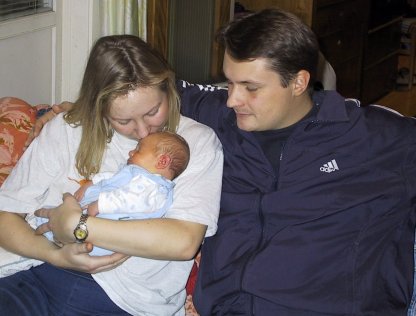 Dec.9, at the age of one week, he came for a visit, and has already started to grow.

Nu i april 2003 är Filip nästan 17 månader och har fått god fart på sina fötter. Han är en ung man med en bestämd vilja, och tycker t.ex. att det är jättetråkigt att åka vagn, men att gå till lekparken är kul.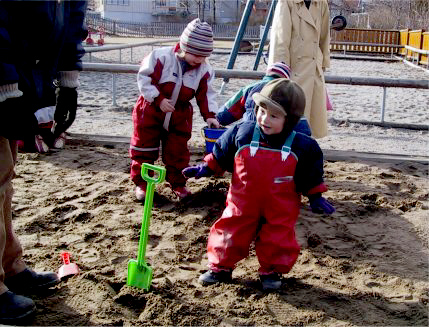 Now in April of 2003 Filip is almost 17 months, and has very quick little feet. He enjoys going to the playground, does not like the swings but enjoys the little slide.
Ibland kan han tänka sig en stilla stund i farmors och farfars soffa med en pepparkaka.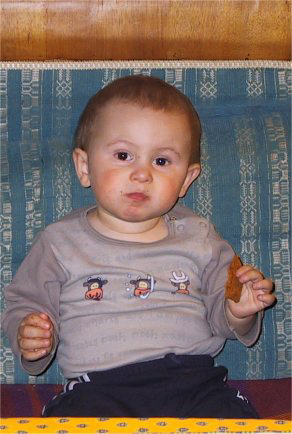 Sometimes he can rest a little in the grandparent's kitchen with a "pepparkaka".
Den lilla familjen bor på Jökelvägen 3, 163 45 Spånga och har telefon 08-760 86 87.
Uppdaterad 20 april 2003