The Swedish Central Soldiers Register
A Soldier in the Family
By Elisabeth Thorsell
From the time of King Gustaf I (1523-1560) the backbone of the Swedish army was the provincial regiments (landskapsregementen) with names like Västgöta ryttare, Dalregementet, etc.

These regiments were recruited by the simple method that officers from the local regiment came to a parish church, where all men between 15 and ca. 45 had to assemble.

Then they divided the men into groups of 10, and in each group one man had to become soldier. Mostly they tried to avoid recruiting the family provider or the widow's only son, but this system became more and more unpopular during the 1600s, when so many men had to go out to war in Germany, and almost none came back.

A new system was then instituted in the late 1600s. Each province made a contract with the Crown to furnish a number of soldiers to the local regiment, if the Crown stopped picking out soldiers in the old way.

By 1692 the new Allotment system (Indelningsverket) was in full function in almost all of the kingdom.

It worked like this: a number of nearby farms made up a rote, and each rote was responsible for one soldier. They had to recruit him, give him a place to live (a soldattorp), pay him some money and victuals in kind, and whatever other benefits were mentioned in his contract. In his turn, the soldier had to go to war when he was summoned. During peace time he had to go to exercises with his regiment every year, and could also be called to other duties. When he went to war, his employers (the rotebönder) had to take care of his family and help them with the farming of the cottage. If he died, his wife and children had to move to make place for the new soldier and his family, if he had one. Often the new soldier married the former soldier's widow.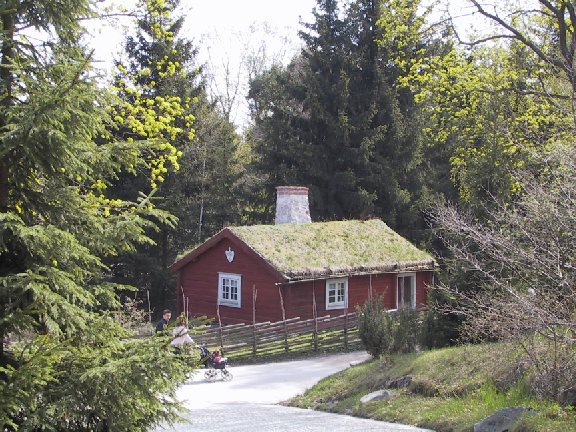 This system worked until 1901, when it was replaced by a compulsory drafted army.
In the old days there were often both a cavalry regiment (about 1800 soldiers) and an infantry regiment (1200 soldiers) in each province. The regiments were then divided into smaller units, 8 companies in the infantry, or 8 squadrons in the cavalry. This means that during the more than 200 years that this system worked, some 300.000 to 400.000 men served as soldiers, which in turn means that most Swedes have one or more soldiers in their family tree.
The army was mustered every three years by a General, or even the King. At that time a roll was written, with details on the service of every man. Usually you can find his age, how long he had served, his height, which province he was born in, if he was married, and sometimes extra remarks like "wounded in the battle of Grossbeeren", "received a medal for bravery" etc. You will also find when he enlisted and when he was discharged. During the 1800s you may also find his exact date of birth and place of birth and what surname he used before entering the service.
The soldier was given a specific soldier's name (soldatnamn) by the officers when he enlisted, as it was necessary that every man had a distinct name, and not a patronymic like Andersson, as there could be 20 men named Andersson in the same company, which would make for confusion. During the 1700s the children did not usually use the soldier's name, but during the 1800s they became inherited surnames, and are still rather common.
For many years volunteers have been extracting facts about the soldiers from the General Muster Rolls and the church records, and these have been joined together in a huge database, The Central Soldier Register (Centrala Soldatregistret), which is now available on the Internet, at http://soldat.dis.se/ You can search it in both Swedish or English.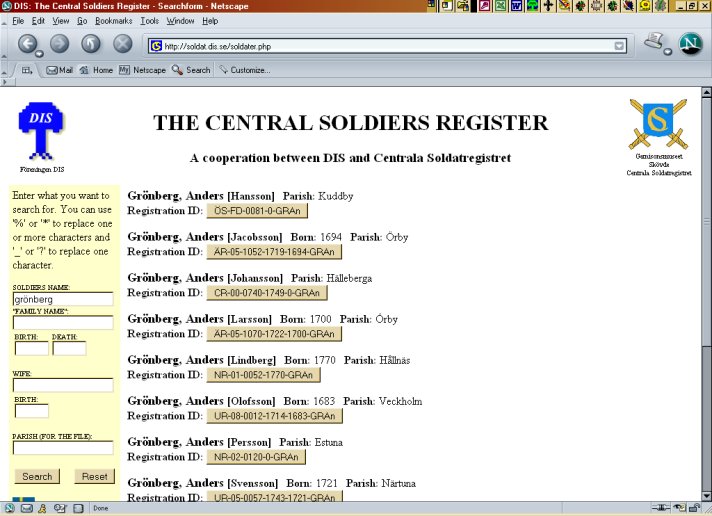 The information you will find is rather limited, but for each soldier there is a link to the local soldatregister where for a small fee you may obtain a copy of the file on your soldier. This file may contain information on his family, his service career, and perhaps an address to a descendant, as many researchers have sent in information on their ancestral soldiers.
If you would like to have more information on the Allottment System (Indelningsverket), we recommend the web site of Hans Högman.
---

Back to the first page!

Uppdaterad 18 August 2005
Copyright Elisabeth Thorsell