The Lindblom Letters

An Emigration Story
In 1881 May 27 the crofter Carl Victor Lindblom from Västra Harg in Östergötland left the port of Göteborg with his family. They were his wife Johanna Sund, children Anna Lovisa (17), Gustaf Adolf (14), August Hjalmar (11), Elin Josephina (8), Otto Leonard (5), and little Oskar Leander (3). The two oldest sons, Carl Emil (22) and Anders Johan (20) remained in Sweden. Anders Johan emigrated in 1884.
The Lindblom family had tickets for Ottawa, Illinois, which is situated on the road from Chicago to Rock Island-Moline. Ottawa was the destination of some 400 of the Swedish emigrants.
The Lindbloms did not stay long in Ottawa, as tragedy struck soon, and the mother, Johanna died in August, and Carl Victor shortly afterwards moved to Davenport, Iowa.
Carl Victor had to write his sons in Sweden and tell them that their mother had died, and he wrote to his son Carl Emil, called just Emil.
Carl Victor's letters have been preserved in Sweden and are presently in the care of Solveig Lindblom Sjölund.
A few years ago Carol Lindblom Fejfar (a descendant of Oskar Leander) finally met her Swedish relatives, and she was given copies of the letters, and have had them translated. She has graciously permitted them to be published on the ET Genealogy web site.
---
The first letter
August.(?) 23rd, l881
Dearly Beloved cildren:
Now you, like me, will get a hard blow. I must shortly inform you that you no longer have your gracious mother. The 21st mother died and her funeral and burial were held on the 22nd. I received your letter the same day that Mama was buried, yesterday, the 22nd, and I have recieved both your letters, so both my oldest children are in good health.
[God]has called Mother home to his land, but dear God, what great worries I poor man have in this foreign country with all these small children. This will be great worries for you to hear, but think, my dear children, if we had been at home in Sweden. Then maybe mother would still have been alive and then it would not have been as hard. But now I pray God in heaven that He will strengthen me in my mind, so that I will not lose it by such a terrible sorrow. I am weeping day and night for my lost wife and your poor little siblings, that are so dear to me, the poor ones. They will get to know other things than you ever did.
I must go out to find work, as long as I am able. I begin to sense that I am not so strong as I would like you to believe. And it is not so good to work when one does not understand a word that people are speaking, that is the worst of all.
I will not write much this time, but after about fourteen days I shall write again. Now I haven't any kind of address; but in my next letter I will give you my address, as we are moving from Ottawa to Davenport.
Now I may mention that Mamma had a stately funeral. There were 14 candles and her casket was so grand. I have never before seen such a grand casket. It was said that she should be buried in the Swedish way, but I did not understand a word. The pastor took me in hand and pointed into the grave and then up into the sky, so that I understood that Mother was gone to heaven. All the children came with the mother to the grave.
Dear Emil, you are to be like a father for your siblings, then we will meet with our dear Mother in in heaven. Dear beloved children, I do not have time to write more this time, for I shall write to auntie [faster] also. Before I end my writing for this time, next time I write I will tell you how our children are doing. Please send this letter to Anna, you might take time off and go to her and meet with her and give her the sad news. You may take your time to go to her. And you may trust that she will appreciate your coming. But it will be a great sorrow for her to know that we are suffering and do not have our Mother any more.
Goodbye, beloved dear children, for this time. We greet you so very heartily, I and the small children. The Lord God be with both us and your deceased Mother.
God is our help
C. W. Lindblom
Gustaf, Adolf, Hjalmar, Elin, Otto and Oskar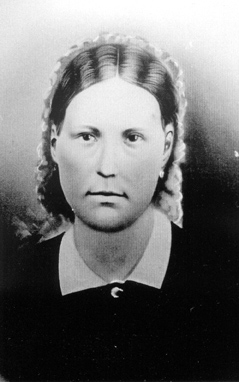 Johanna Sund Lindblom, the wife and mother who died shortly after emigration
---

The second letter
Davenport, Sept. 4th, 1881
Beloved and Dear Children:
That you are in good health is my dearest wish. I must again write a little to you about the circumstances that you do not have a mother any longer, and you know that I am without a wife, without her support and comfort here on this earth, as well as I know this.
You may know, my dear children, when we were at home in Sweden, how we made plans to go so far to a foreign land, that we might meet unfriendly strangers. Therefore I shall name several who by all means would be willing to help you in case of need. There is Adolf. He is in training to become a tailor, and if he may live he will have a good life. And Hjalmar. He is still with a farmer but he is quite well-fixed. Elin and Otto have it quite good where they are. Clara Dahlgren is near, but I worry about her because she cannot speak on account of swelling in her throat.
Dahlgren's children have moved from Ottawa to Davenport, and here I am also. There are eighty English miles from here to Ottawa where your four siblings are. But I go to Oscar every evening and give him a little water(?) or an apple. If I can have some kind of work in the winter, then I shall take the three small children to be with me; but I do not know how this may work out before winter.
Nevertheless, it seems that there is not much likeness in the matter of finding lodgings or work about which August Dahlgren wrote. Then he tried foolish schemes, deceiving both us and his own sister, encouraging her to come to America. He brings up a perfect plan as it seems. But Clara said he has never written the truth back to his parents nor she has never known anyone so careless regarding the truth.
So it was that Selma came, but in wintertime, and August had no work for her. I would write, but have not known what to write to Dahlgrens in Adamstorp, about the conditions of their children in America.
Uncertain translation: Concerning this I did not need to know of other failure. So did August to me and my family. So much trouble. So if we had stayed at Bo [the home in Sweden] I think Mother would still have been alive, as she was so worried when she saw our circumstances, so she had no health day anymore in her life, and how long I can strive, God knows, for I have plenty of worries too, and now I am alone with them.
Dear Emil, I do not write to Anna separately, but you can send this letter to her, and I hope these lines will meet with you in good health. Be kind and send little notes to me like both your last letters. I mention that it is not easy to get work in a workshop, when you can't speak a word that they understand, but I have been working for a Swedish man, ........., but he has promised me winter work, but I have a dollar and a half per day. But I must pay $3.50 per week for meals, but what I am to pay for the children I don't know yet.
Now I must end my writing for this time. I shall write more soon, but close now with greetings from all of us together. God be with (us all)...
---
The third letter
Davenport, November 28th, 1881
My Dearly Beloved Children,
may you be in good health, is my dearest wish.
I shall try briefly to send a few lines to you and let you know that we have our health, all of us, except for Oscar, he is very weak, but Elin and Otto have been sick, but now they are well. Elin has been given an agreement by a family that until she is married,she is taken as their own. They are a Swedish couple (family). They have no children so she will receive all the inheritance in event of their death. They are rich so now I do not need to have any concerns for her.
But for Otto and Oscar I have to pay two dollars a week each, and that is over seven crowns in Swedish money. I have earned quite well in money since we came to America. But I have had to pay the doctor twenty dollars, and for Mama's funeral twenty-seven dollars. So the money has gone as fast as I have been able to earn it.
All the while I have had a dollar and a half a day, so if Mama had been allowed to live, it would have worked out. Now it is my dearest wish that I should have all of you here together, then I would be satisfied. But we can hope that in time all will be well. It would be very good if Anna comes to us. I believe we can save as much money as is needed to send for you in another year.
In my opinion it will be a very useful thing for you to come here, as you can earn good money here, if only one can learn the language. That goes better for those who are young. Here you can earn around five crowns per day, and if we could live together, then the expenses for food would be less, and I believe it should go well for us.
A shoemaker makes ten dollars a week, and what concerns clothing it is very cheap, and food is not so expensive, especially if one can take care of it oneself. Otherwise one must pay a half dollar a day for that.
Recently I have written to Anna that she should prepare herself for the spring to travel so she can come. I have written to Stockholm that Auntie [Faster, father's sister] shall help her with a little money. So I received a letter from Swärd in Svängen, in which he promised that he would help her a little. Then we will see wether we can send you tickets for the spring a year away, so you can come to us.
Now my beloved children, you cannot imagine how I grieve for Mama. I never would have thought that it should be so sad, I can never forget her, thus it would be pleasant if I could have my children in one place.
My beloved ones, thank you for sending your portraits. It was good to get them all, but Adolf and Hjalmar have not seen them yet, because we have forty English miles from one to the other. Hjalmar I have not seen since Mama died. So I do not know how it is with him. He is with a farmer and I have only received one letter from him, and then he did not enjoy himself, poor Hjalmar. I grieve much for my children that I cannot have them in my care, but God grant that other (better) days may come. You may believe that they [the little ones] have other days than what you had when you were younger. It must seem to them that both Mama and I were dead. They are not big enough to be away with others, but we must hope that God will bring us together again so we can be together.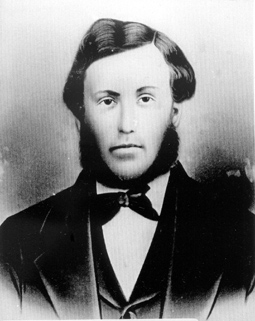 Carl Victor Lindblom, the writer of these letters
---
The fourth letter
Davenport, December 16th, 1881
My beloved Emil:
I must thank you so much for your letter written on November 14th, which I have recieved as I should, and in which I find that you had not got the letter that I had written earlier, when I received your picture. But when you wrote that last letter, it had not had the time to arrive here as I did not write immediately. But now I hope that you have what I have written to you, and to Anna, and to Auntie, and to Swärd and to Holm, all near the same time. But if these letters never reached you, then I must write a few lines. I saw in your letter that you were worried that I had died. But I must thank God that I have good health since I have come to America, but the children have been sick but now they are all better.
Now I can tell you that I gave Elin away on the 12th of this month to live with a Swedish family (couple) who have taken her for their own child, on the condition that after their deaths she will receive the inheritance, and they are quite wealthy. I have considered putting Otto and Oscar into a children's home, but I have not found one yet. Now I have to pay four dollars a week, so they are difficult for me to pay for. But I do not need to pay for Hjalmar and Adolf. But the sad thing is that we are so far from each other, about eighty-four English miles. Hjalmar is with a farmer, and Adolf, he is with an elderly couple in Ottawa, but I will see what can be changed if Anna comes to be with me in the spring.
It would be very pleasant if I had all of you here, it is difficult to find work here in wintertime for the one who does not know a craft, but shoemakers have work both winter and summer. You that are young can learn the spoken language quickly; and then it is not hard to earn good money, only if they know to be careful with it. So I wish that I had you here while you are young, so you could make your future, and in case that you would not wish to live in America, then you could earn enough money so you could travel home to Sweden.
But we will hear how Anna feels about America when she comes here. For my part with my circumstances I cannot like America as I can never have a day of happiness here. In any case I cannot have any happiness unless my children come here. The ones who are little give me more sorrow than joy so far , but it may be that it will be of use for them to come here while they are young.
Now I will not write more this time. I shall write more soon when I can tell you about our Christmas. We are having a mild winter so far.
Beloved Emil, I will close my writing this time with a thousand heart-felt greetings from all of us, from me and from your brothers and sisters.
From your loving father, C. W. Lindblom
You may write my address in this manner:
Mr. C. W. Lindblom, 410 East 4th Street.
Davenport, Iowa, North America.
---

The fifth letter
February 14, l882
Davenport, February 14, 1882
Thanks, beloved Emil, for the letter that you wrote on the 27th of December, which I have recieved as I should, in which I see that all of you are enjoying good health. You may well believe that it is a big happiness for me to see this, and I thank God for the same good fortune, that all of us have now until this moment of writing.
We are far from each other, but we keep writing to each other, so we may know what comes to pass for each one.
Otto has been with me twice to Oscar, as we live in a town, but Adolf and Hjalmar are in Ottawa, and Elin is not far from me, but I have not visited her since the New Year. I have not received any letter from Anna or Auntie (faster). [line missing] that they are on their way. I am wondering if Anna is busy with preparing herself for her journey. It will be pleasant if all goes well and we get to see one another again. I have no happiness until we are all together again; and I will never forget my beloved wife, that I will never see again, I have to say as it is written in the Psalm, "Away you went, and I could not reward you as I should".
It might well be possible that we can have it much better in time, but it does not go fast for me as long as the children are so little.
Dear Emil, you will see if I can send you the money that I borrowed from you in the summer. It would be so nice, if I may have my health, so I could do that, as whatever happens, I want you all to come here.
It is hard enough before you have learnt the language, but later it can be much better (for a person) than in Sweden. Here one can save a hundred dollars a year. That becomes much Swedish money. Haven't you received a letter from your brother in law, Gustafson, so you know how he likes it in America?
It is possible that a person may not find a such a place of work as hoped for upon arrival, but one has to stay there and make some money. It is the best to come in the springtime, as there is plenty of work then , which is not the case during winter. Now there may be thousands of workers who have nothing to do, but in the summer there are jobs. We have had a good winter here all the time, which is very good, as they do not have fires in their bedrooms here, and also they have very bad houses, they do no use boards to build with, so the rooms are very cold.
August and Selma send greetings to you, I visited with them on the 12th. I haven't any more news to write except that I close my writing for this time. May God be with both you and us. Signed by your father, faithful until death.
Your affectionate father,
C. W. Lindblom
Greet all peple I know from me. Anna also shall soon receive a short letter. I wonder how she plans to travel. I have my old address:
Mr. C. W. Lindblom, 4-10 East 4th Street, Davenport, Iowa.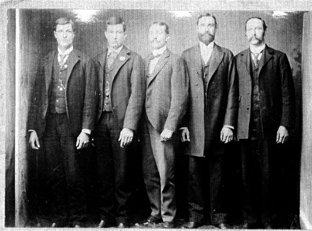 The Lindblom brothers in America: Oscar, Otto, August, Gustaf and Anders. Emil stayed in Sweden.
---
The sixth letter
Davenport, March 26th, 1882
Dearly Beloved Children:
That you have your welfare is my daily concern. Your letter, my dear Emil, of the 4th of this month I got on the 23rd, and in this I find that you are well, thank God, and we have got the same good gift to thank the Lord for. I ask you, Emil, that you send this letter to Anna. I do not write to her now as I am waiting for a letter from her. But I see in your letter that she cannot travel to come here in the spring, because she cannot get more money from Auntie [Faster]. And maybe she could not get some from Swärd in Swängen.
I know well enough that when it comes to the point, it may be impossible on account of lacking money. But it is good if she is not without a place. So there is no hurry for her to come, and it is just as well for a girl to come in the fall as in the spring.
For my part I am not in a position now so that I can send any money now until the summer. What I have earned in the winter has not been more than the amount needed to pay for the children, around fifteen crowns in Swedish money each week. When I am writing this letter I have no more than six dollars in my purse. But soon I will get more daily pay so I believe I can send some home. If it is so that Anna does not have a place this spring, then she must go to Auntie's and stay there until I shall send her money. And then she should study English as much as she can, as that is the hardest when one comes here.
If I could speak English, then I could have had it much better, but in the circumstances we found ourselves in when we came here, it isn't any wonder that it has been difficult for me, and I am not yet sure if I will ever have a happy day again.
Beloved Emil, we must wait and see in the mean time what will happen with Anna's travel now, if she could get enough money, then she could come. It was not much that Auntie gave her, that will not be enough.
I thought when I came from Sweden that Clara Dahlgren had it so she could loan me a little money, but they have not been careful, so they do not have any. August he does not save any, and there are plenty of ale-houses here.
Selma and August are staying with Clara both of them. I can send you greetings from Selma, I pity her because her siblings are so ungodly. They believe there is no God, and they play cards and drink beer all day Sunday.
Now, my beloved son, I must close my writing for this time. You shall be good and send this letter to Anna, and let us hear how everything comes to be.
Adieu, beloved Emil, Johan, and Anna for this time. God be with both you and us.
Your affectionate father
C. W. Lindblom
[The oldest daughter, Anna, born in 1864, did come to Davenport in 1882, probably in early June, as she left the port of Göteborg on May 12th (Emigranten database)]
---
The seventh letter
Davenport, December l0th, 1882
Your letter, my beloved children, of November 20th, we have received on the 6th of this month, in which we see how the merciful God gives you health, which brought us gladness. And we also thank God for the same divine gift. I want to tell you that Anna was here this morning so she could read your letter.
We talked about how we should work it out so that we could have you with us. We wondered if we should send you a ticket, if you could scrape together enough money so that one of you could make the trip. It would be so pleasant both for you and for us if we could live together. I know very well that you have it nice where you are, but you could earn more money (here) if you were in America.
Anna has already earned for herself more than one hundred crowns; and if you think about it, if I could lay aside as much it would be well. But I have to pay for Otto and Oscar. That takes around fifty or sixty crowns a year. And then I must buy clothes for them. That is another expense. And you would not have any outlay such as this, so it seems to me that you would do better, besides the fact that you are younger. You need not suppose that you will be here forever. You could travel back to Sweden after a few years. But consider how it would be if you could not do that, then we would never see each other again. But I hope that you would never regret your travel, you that are so young. What you plan in this regard should be done before you have a family.
Here are two Swedish shoemakers who have their families in Sweden. They earn 10 dollars a week. Think what money they could send home when a dollar becomes almost 4.50 (in Swedish money). But in the beginning one gets dishearted, before learning the (English) language, but you do not have to do that as you will have your home with me and all your siblings. Anna was a bit homesick first she came, but not anymore.
As you do not have fiancées, then you have nobody to long for, and you Emil can have Selma for your fiancée, she is not married yet, and she talks a lot about you. But if you listen to my advice there is no hurry with those matters. I saw in your letter, my dear Emil, that you had been disappointed in Tina, but that could turn out to be a good thing.
Thus my dear children our dearest wish is that you should come to us, but you should come here early in the springtime, the earlier the better, then you are certain of getting jobs in the summer, and then you would earn a nice sum of money during the summer.
We could see about sending you a ticket so you could come in February. Now you answer me right away on this letter.
It was good that you recieved Mother's picture. I thought that sending them that way was best, as a letter would be too heavy. Now I might mention that Adolf and Hjallmar are here with a couple of Swedish farmers. They are not far from each other, but they are ten English miles from us, but they have it good enough there. I should mention that Oscar can't speak any (English) yet, but Otto can speak English, and he goes to school.
Now I must close writing for this time, with hearty greetings from all of us, both big and small.
Your affectionate father,
C. W. Lindholm
And my dear boys, what a great happiness it would be if it could possibly come to pass that we may meet again. I will not have any peace until you come here, as I have not forgotten my only support, namely, my wife and your mother. But I must thank God that I have not done as Andersson in Hydinge, it has been so sad and lonely sometimes, you wouldn't believe. Now adieu for this time, my beloved children. God be with you and all of us.
Let Johan read this letter too.
---
The eighth letter
Davenport, Feb. 25, 1883
Beloved Emil and John, may you both be well,
I shall try to write a short letter and let you know that I received a letter from Stockholm eight days after I received your letter. Now I can tell you that I have an extremely nice sum of money from my brother-in-law. He writes to me that Thilda had 14000 kronor in cash, as well as her loose chattels, that he thinks to give to me, as he likes. He has offered to give me only 5000 kronor, and wants to keep the rest for himself. This is good for us to have, but I was not satisfied with his proposal, but I have to leave this in the hands of the law, as I should be entitled to at least half of her money in cash. If the loose chattels were to be used to pay the debts, this will anyhow not be just half of the estate.
[text missing for two lines]
… in the case you Emil have my will, which I think I remember giving to you. In this it is stated that I and my mother and Thilda's husband each were to have a third of Thilda's estate. As my mother now also is dead, it may happen that the will is understood as if I was to have two thirds and my brother-in-law one third. Thilda never told her husband that I had this will. Now I have written today to him that I am not satisfied with his offer, and that I will send you a power of attorney to guard my rights. As soon as you have recieved this letter you will write immediately to my brother-in-law and ask which day you can come to him to guard the probate.
Now, when you get to my brother-in-law, ask to talk to the trustee, who has been chosen to guard my rights. To him you should show the will and ask to be permitted to check the list of property, if there is any value there. Now when you have examined all the papers, then ask if you cannot take care of the cash sum, that will come on my part, and after having excluded the sum necessary for your needs during the travel here, then you leave the rest in a bank in Stockholm, under the condition that they give you a receipt, or as they call it here in America, a draft, that we can cash at the National(?) bank here in Davenport. Then we are sure they (the money) are not lost during the journey. Then you are to start your journey here as soon as possible. But now, my dear Emil, it is necessary that you are on guard and not letting yourself be duped, because then I will be in big trouble.
Perhaps it does not hurt if you let my trustee speak in Stockholm.
Then you will find out how soon I will get information about the other valuables, as from the loose chattels, but my brother-in-law or my trustee will probably inform me. It may take some time to untangle all that personal estate.
Yes, now, my dear Emil, you know very well how this business stands. I must close for this time with a tender and dear greeting from us all, both large and small. Signed by your loving Father.
C. W. Lindblom
[Thilda was Carl Victor's sister; she was born 18 September 1841 in Tjärstad. She was married and lived in Stockholm, it seems, but the name of her husband is not known (yet). She died 18 January 1883.]
---
The ninth letter
Davenport, March 27th, 1883
Your letter of the 6th of this month I received today, which I will answer in great haste, in case it reaches you before your journey. It is so distressing, my dearest Emil, that there are so many obstacles in the way of your travel. Has there become such a shortage of laborerers now in Sweden, that you can not leave? Well, that matter I do not hink is the problem, and then regarding money you must alreday have got that which Andersson owed you. Can you give the rifles(?).to Svärd in Svängen, so he can get payment for what Anna owed him.
You write, dear Emil, that you have enough heart for us; then why don't you have some heart for your brother Johan also? But you want to let him travel alone such a long way. You are the only one that I could have some support from during my old age.
You should greet Anderson that he need not be displeased that you want to travel to us, and it is fitting that you travel together.
Now I am not going to write much about that matter, as this letter maybe will not reach you, while you are still at home.
If you get this letter, there is a Swedish shoemaker who wants you to bring two or three good stones(?) to sharpen knives on, and you can also bring some tools.
I close this time as I believe that you have made you rplans long ago, and maybe already are travelling.
Thus I will just wish you a happy journey.
Your affectionate Father
****************************************
Two months later the father Carl Victor died from an accident: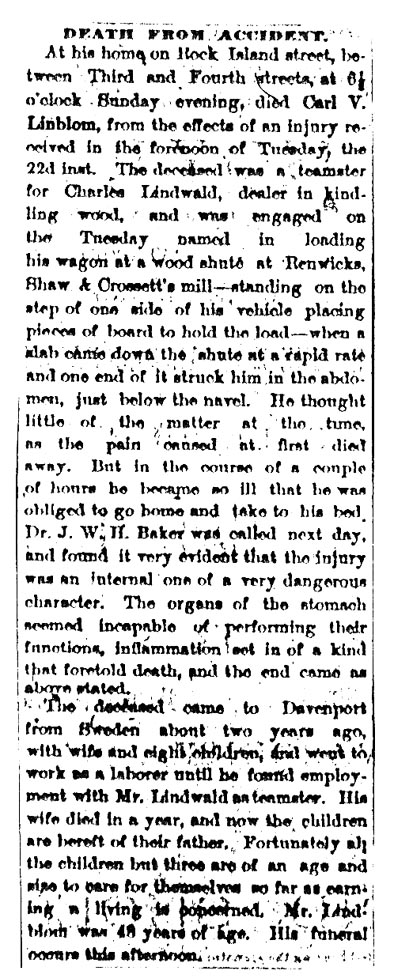 Obituary from The Davenport Democrat, published in Davenport, Iowa, on Monday 28 May 1883.